PHOTO ALBUM 1
Left: My sister Zenovia in her Ukrainian costume. There was a drama group and a youth organization. Plays were staged and concerts and dances held.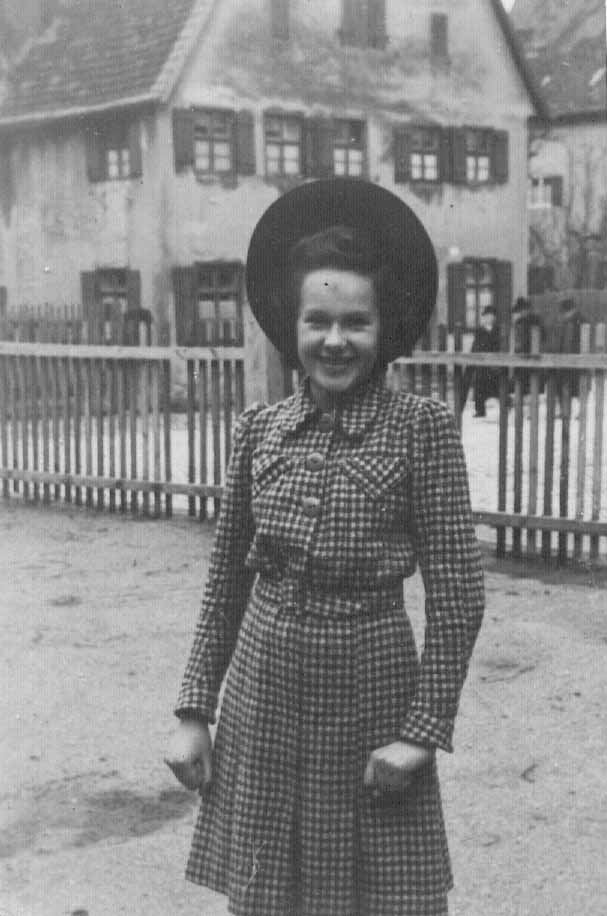 Right: Wearing the latest in 1948 young ladies' fashion? Note the architecture. All buildings were maintained in this style by law. Actually kids' clothing was usually made from worn out adults' clothing. A mother's dress became a skirt, a man's coat became a coat for a kid. A black-market flourished and the barter system was in effect. Nylon hose, cigarettes, coffee and chocolate were prime bartering goods. Our food, supplied by UNRRA was supplemented, of necessity in such a manner. Photo taken in the paved front yard of our camp.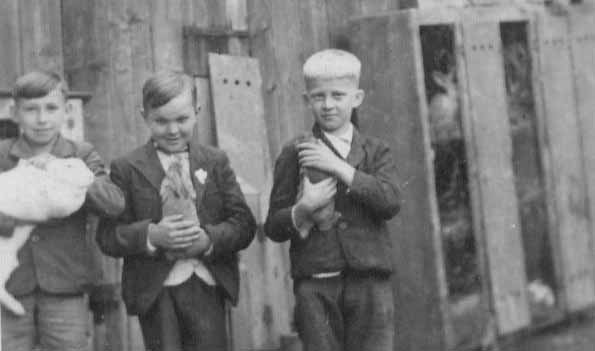 Left: George Kapy at left, myself center and Taras Ciupka with some of our rabbits. We collected grass for their feed during summer. I suppose we did not notice some rabbits missing as we had many of them, and were told we were eating chicken! Other food supplements came via the black market and the bartering system which prevailed. Coffee, cigarettes, nylon stockings and chocolate were prime goods to trade for other necessities. Parcels from my aunt in Canada were a Godsend!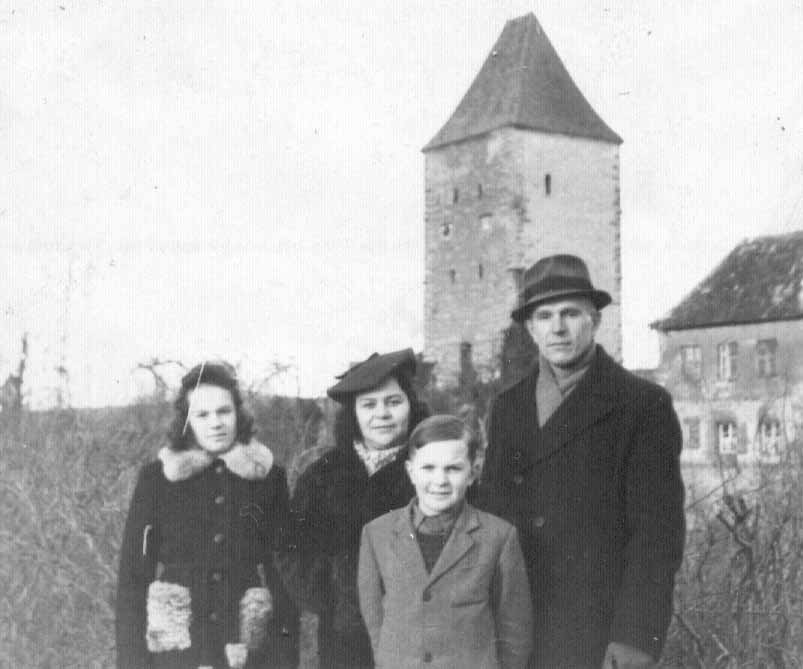 Left: My sister at left, myself and our parents Wasylida and Emil Sklepkowycz outside the town walls. In the background is Nerdlingen Tor (Nerdlingen Tower). The towers were named after the town the roads through them led to. Most were empty structures. This one had a stairway that hugged the walls and led to planked upper floors. The window frames were empty. People lived in some of these. During the warm months one often saw artists drawing or painting tower scenes, something I also tried. My work survives!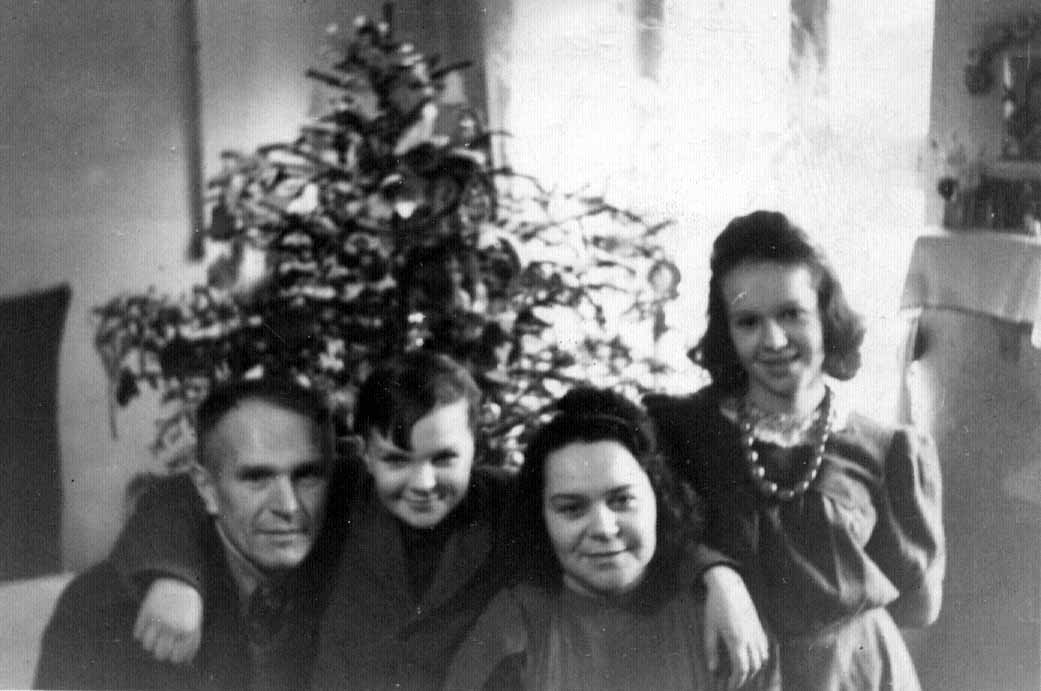 Left: Our room faced the street and contained a bed for our parents, a two-tiered bunk bed for my sister and I and a table. We had a a hot plate for cooking. It was tight, but we managed. There was a one-piece toilet in the hall and a cold water tap on a wall beside its door. The Christmas tree was decorated with home-made decorations and real candles.
Below: My sister and I on Nerdlingen Strasse. All streets were cobble-stoned. Note gates on the buildings at right. Large building at end of street is the Catholic St. George's Cathedral. Circa 1975 I met an architect in Toronto who showed me photos of a German town he had visited to study the architecture. You guessed it - it was Dinkelsbühl!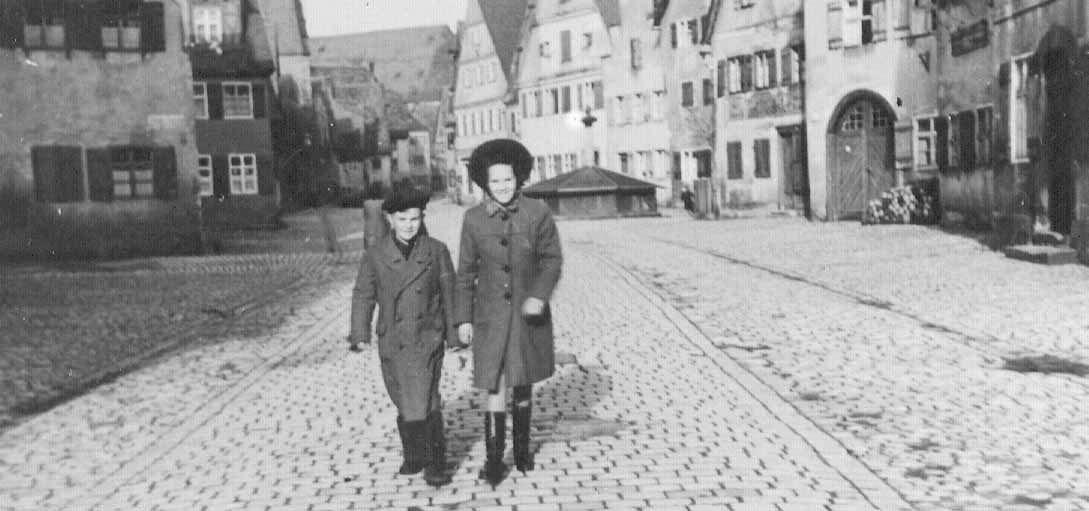 ---
© Copyright 2002 M. J. Sklepkowycz. All rights reserved